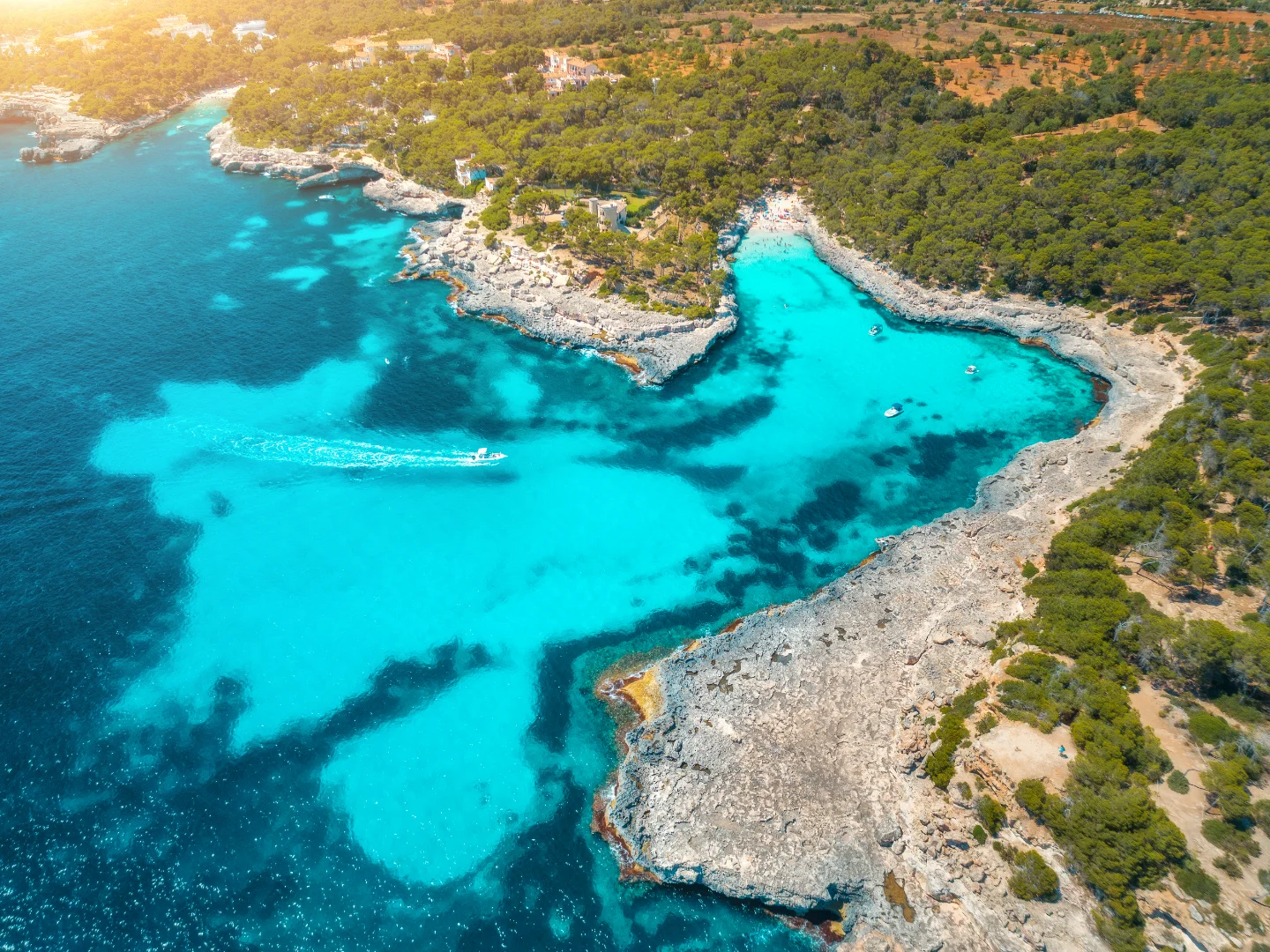 Let the magnificent Balearics captivate you on a luxurious yacht journey. Swaying to warm sunshine off Spain's glistening east coast, explore Mallorca, Menorca and Ibiza as well as Formentera which boasts stunning beauty and exciting nightlife. Sail from Palma Mallorca to beautiful Ibiza and Formentera - then end your yacht charter holiday in Mahon Menorca for a taste of its elegant architecture, laidback lifestyle and charming cafe culture. An unforgettable ocean oasis awaits!
---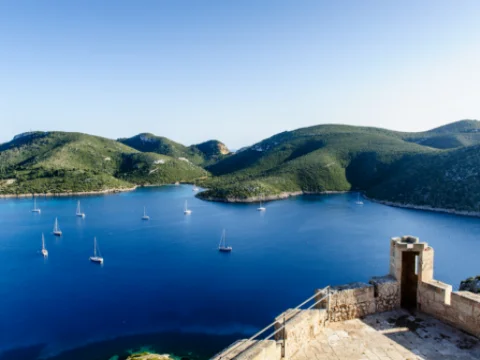 Embark your yacht charter vacation in the vibrant capital of Palma, where centuries-old cobbled streets and Gothic cathedrals intertwine with Michelin-starred restaurants and waterfront bars. Sail towards the Cabrera's National Maritime Park archipelago - once home to pirates hundreds of years ago attacking Mallorcan coastlines. Sail into this unspoilt paradise with a special permit arranged exclusively by our Brokers!  Admire breathtaking panoramic views from atop its majestic castle before gliding towards the turquoise waters of the Blue Grotto in your tender boat, ready to dive into this captivatingly clear blue waterway. Spend an unforgettable night at anchor while surrounded by nature's beauty within this untouched reserve among stars that seem closer than ever before!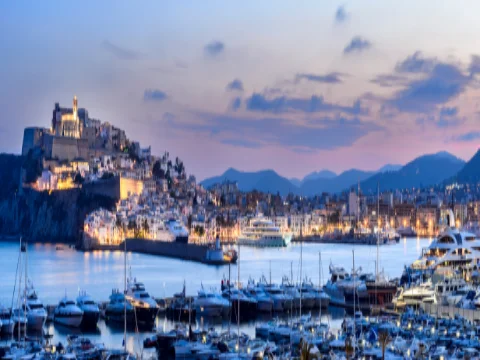 Early in the morning set sail to Ibiza, leaving Behind Cabrera and Mallorca. Arrive to Ibiza Port and explore the stunning cobbled alleys of Ibiza's Old Town, filled with hidden plazas offering cultural delights such as tapas and locally-crafted items. Anchor the yacht off its famed white sandy beaches before indulging yourself at one of many swanky harbour bars when dusk sets in. For those looking for more than just clubbing - step into sophisticated eateries where locals mix amongst celebrities to enjoy an unforgettable nightlife experience!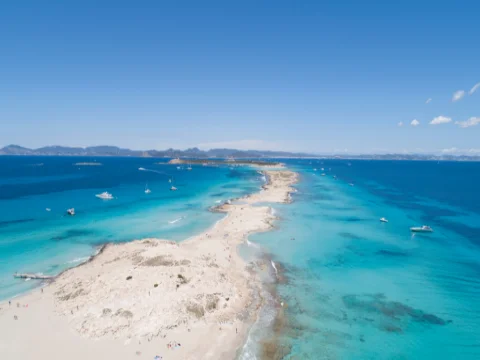 Discover a paradise unlike any other on the off-lying island of Formentera. With its white, powdery sands and pristine waters awash in hues from turquoise to blue - this isle has long held an enchanting allure for celebrities chartering a yacht to discover Fromentera ranging from Jimi Hendrix to Madonna, Leonardo di Caprio alike. Soak up some rejuvenation at Espalmador's hot spring or spend your nights dancing away under the stars against picturesque coastlines; whatever you choose will make for memories that last a lifetime!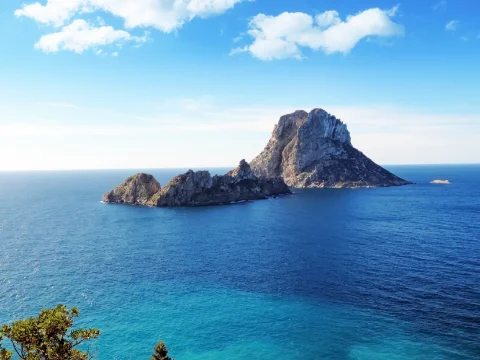 Embark on a magical journey aboard your yacht and set course for the stunning southern coastline of Ibiza. Anchor at Es Vedra, its majestic 400-metre high rock island shrouded in myth and legend as one of the most magnetic places on Earth - witnessed in popular culture after being used to represent Bali Hai in South Pacific. Explore beneath seas around this awe-inspiring islet; discover an enchanting underwater world like no other before indulging with a paella lunch ashore at Es Boldado!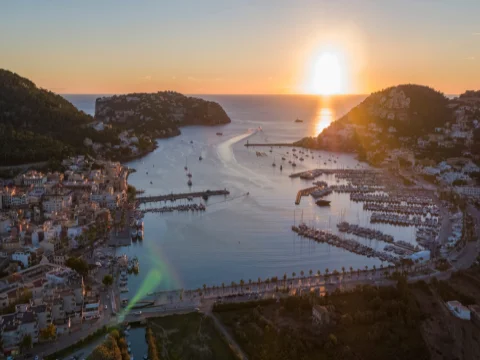 Cruise from Ibiza to Mallorca at the break of dawn, and take a leisurely day amidst water sports in one of the secluded bays surrounding Port Andratx. As you make your way around this luxuriant fishing village - favoured amongst yachters, celebrities and affluent jet-setters alike - don't forget to savour an unforgettable sundowner experience at the famous Tims Bar at Port Andratx for jawdropping views across the charming harbour. Moorings are available along with access to The Port Andratx Sailing Club.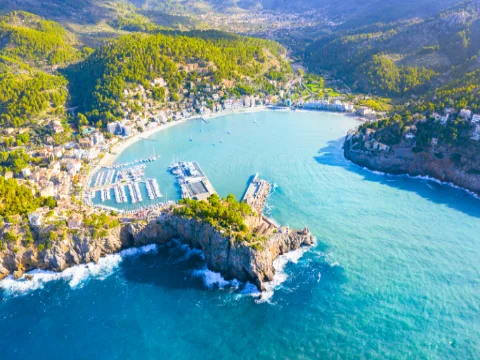 Sail North towards Port de Soller, and uncover the hidden gems of Mallorca's tranquil north coast. Anchor in Puerto Soller, take a tender ride to Sollers Marina and sample its renowned prawns at one of many seaside eateries, then ride aboard a vintage electric tram up to the picturesque mountain town cloaked by cobbled streets and lively cafes. Explore Deià with its iconic La Residencia Hotel — once owned by Richard Branson — or head to Valldemossa, where Chopin and his beloved Madame George Sands famously spent an infamous winter.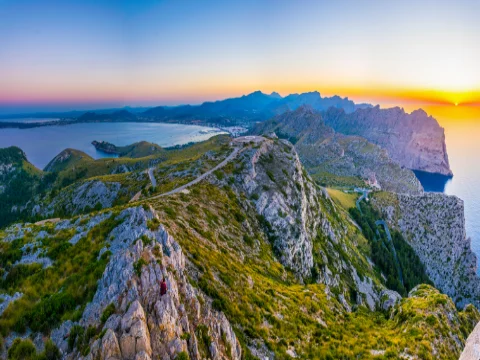 Leave Port De Soller and sail towards Port de Pollenca. Formentor and Pollenca boast breathtaking surrounds, from serene bays perfect for anchorage to the verdant mountain peaks with spectacular coastal vistas. Get your adrenaline pumping by indulging in some water sports or take a leisurely stroll around ancient Pollenca – founded 123 BC by Romans - as you soak up its authentic islander-culture atmosphere. Recharge over cafe con leche and an ensaimada (Mallorca's celebrated pastry) at one of many cafes on the square; it's sure to be an elegant experience!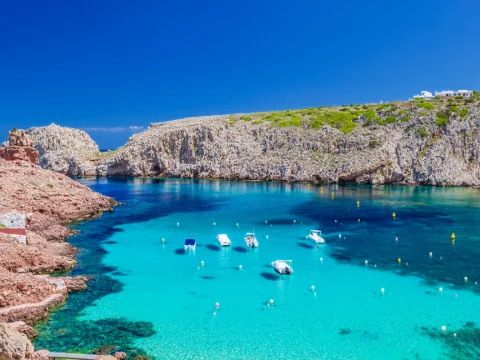 Embark on a journey to the quaint island of Menorca, where rolling hills and pastoral countryside are accompanied by peaceful herds leisurely wandering through. Enjoy the serenity at Cala Algaiarens or its lesser-known counterpart of Cala Morell with captivating whitewashed houses lining their picturesque cliffs. If you wish for an immersive cultural experience head to Ciutadella - renowned for it's attractive port cityscape begging exploration!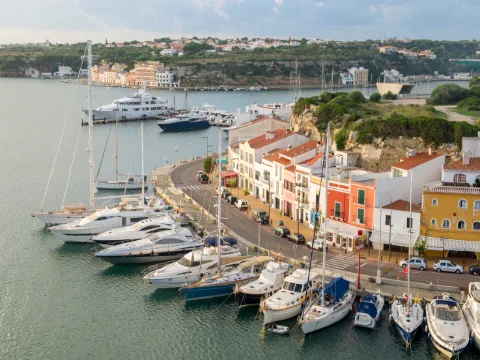 Take a step back in time when you arrive at the charming and laidback town of Mahón, also known as Maó. This port city is graced with 18th-century British architecture, including bow-fronted houses and sash windows that are just begging to be admired. While here, it's common for visitors to stop by one of many pavement cafés where they can dive into Menorcan culture while enjoying Xoriguer Gin mixed with homemade lemonade - better known as Pomada! And if there's an extra bit of room left in your suitcase on departure day, then consider popping into one of the local shoe factories; after all everyone needs something special from their travels abroad…right?
Don't forget to tip the crew, they have worked very hard to make your yacht charter vacation a dream come true and would love to see your appreciation. 
---