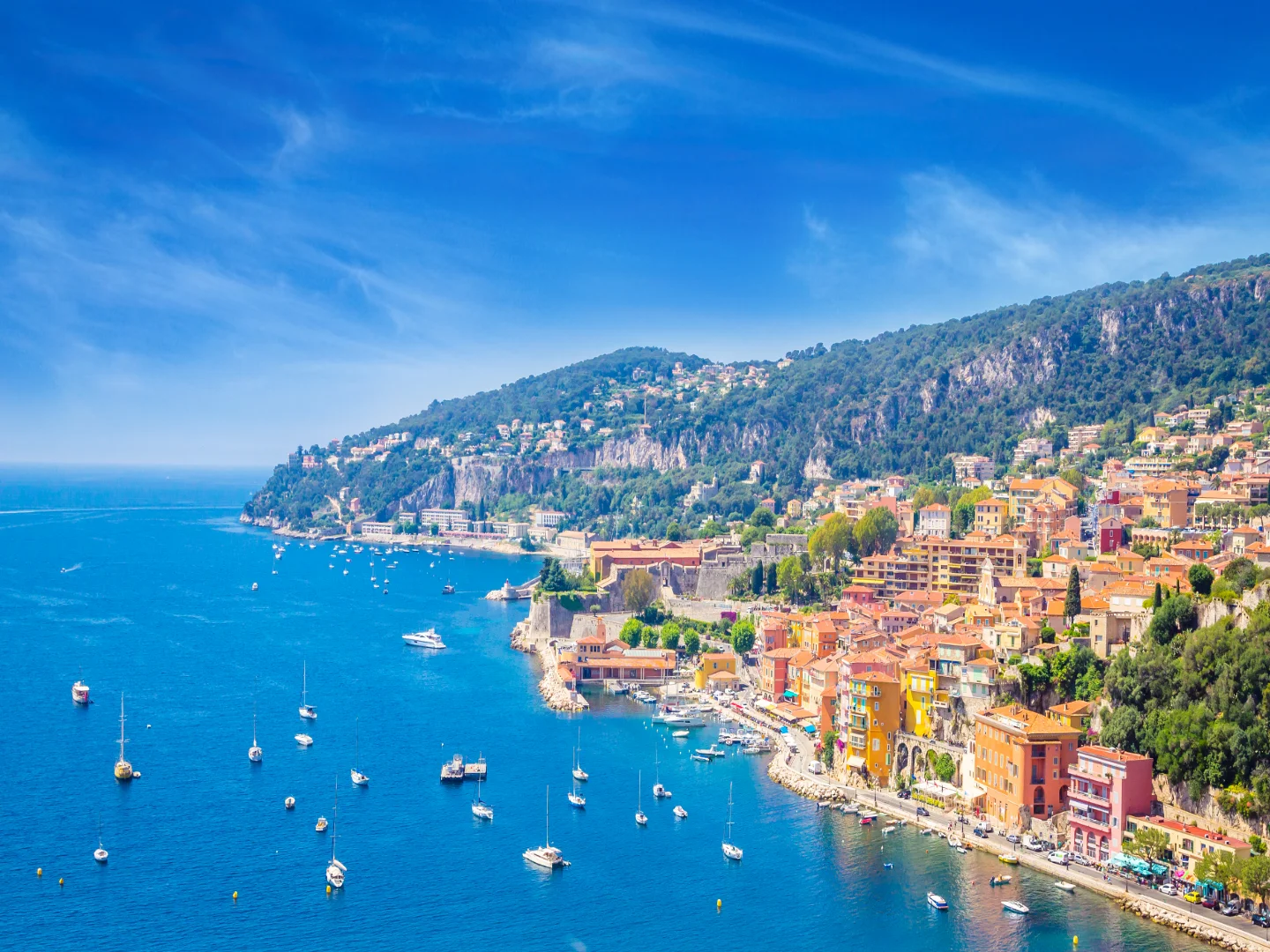 French Riviera Yacht Charter
A 7-day yacht charter Itinerary to discover the Beautiful French Riviera and Monaco on a Super Yacht. Visiting MONACO, CANNES, L'ILES DE LERINS & SAINT-HONORAT, SAINT-TROPEZ, L'ILE DE PORQUEROLLES, VILLEFRANCHE-SUR-MER, ST-JEAN-CAP-FERAT. Embarking and disembarking in Monaco.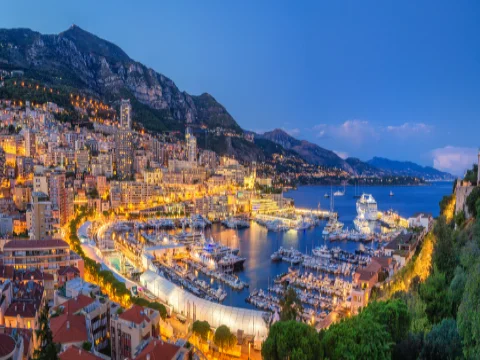 Embarking in Monaco
After landing at Nice Cote d'Azur Airport, take the 7-minute helicopter ride from Nice Airport to Monaco, and enjoy the views over the beautiful French Riviera. After landing head straight to your yacht, where the crew will welcome you with a refreshing drink and cold towels, show you the boat and discuss the final itinerary. If this is your first time in Monaco we recommend you enjoy dinner at the newly opened Mome Restaurant, where the combination of great cocktails, sophisticated food, fantastic mood and live music will bring you into holiday mode . After dinner, try your hand at the roulette table at the legendary Casino de Monte Carlo or the Casino's new Buddha Bar, a converted theatre clad in velvet drapes and exotic opulence, or head for Jimmy'z for the top DJs or Black Legend for live music. Our Concierge team will assist you in booking any of the restaurants mentioned above or any other you might want to visit. 
Cannes
Back on the yacht, wake up to a breakfast prepared while you sleep, following your preferences. Cannes is the next port of call. If in the mood for shopping, Cannes is the Shopping Spot on your Charter, where international designers have set up their boutiques along the mile-long Boulevard de la Croisette, a beautiful seaside boulevard perfect for an evening stroll. Dine on board, visit La Petite Maison at the Palm Beach at the end of the Boulevard, or take the short drive out of town to the verdant L'Oasis, a fusion of Mediterranean and Asian cuisine awarded with two Michelin stars.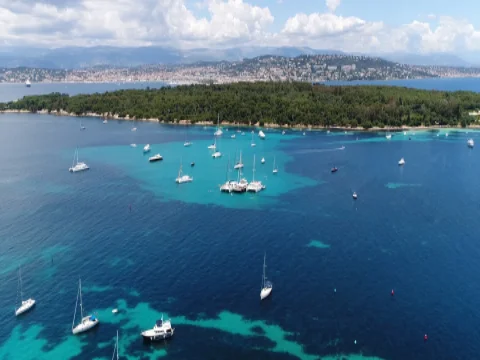 Iles de Lerins and Saint-Honorat
In the morning, the yacht will depart Cannes setting course to L'iles De Lerins: cruising along the breathtaking French Riviera to Iles de Lérins, an archipelago of four islands near Cannes. Drop Anchor for a swim and Lunch at Sainte Marguerite, which is dominated by the fort where Alexandre Dumas incarcerated the 'Man in the Iron Mask'. 
In the afternoon, cruise south towards the island of Saint-Honorat, owned and inhabited by monks almost continuously since 410AD and home to the bishop's seminary where St Patrick trained before setting off for Ireland.Visit the shops selling the white wine, lavender oils, honey and liquors produced by the 28 Cistercian brothers of the monastic community and head back to the yacht for a perfect Mediterranean Dinner.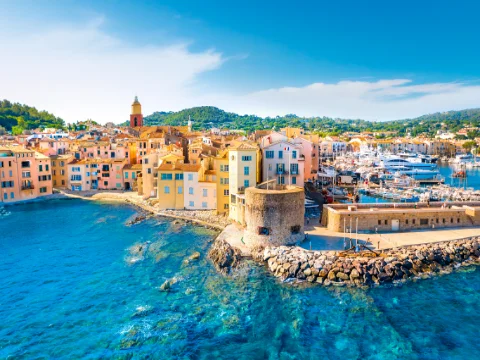 Saint-Tropez
Depart Saint-Honorat and enjoy breakfast on board while cruising towards Saint-Tropez. Drop anchor off Pampelonne Beach, Brigitte Bardot's favourite beach and said to be the home of the bikini. For lunch, we recommend you enjoy a light salad prepared by the chef, some fresh fruit and a cold wine since Dinner in Saint-Tropez awaits. 
In the afternoon, head to port and enjoy a refreshment in one of the many bars, head back to the boat and get ready for a night our in Saint-Tropez famous for its glamorous nightclubs where you can dance into the early hours.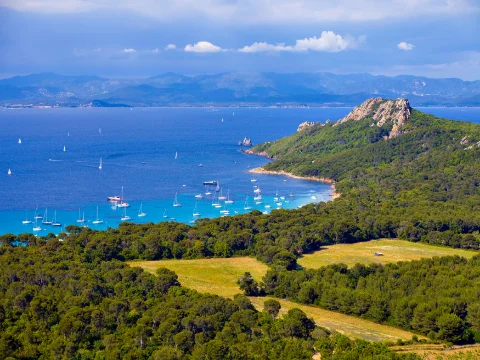 Ile de Porquerolles
After a night out, you will wake up to the relaxing sound of the sea at L'ile De Porquerolles: leaving Saint-Tropez glamour far behind, the yacht will cruise across the Gulf of Hyères to Porquerolles, a calm island whose unspoilt natural beauty is protected by law and where cars are banned. Take the tender ashore to Notre Dame beach for a lazy morning on the sands, and explore the cliffs on the south shore where the sea fades from the brightest turquoise to sapphire blue. Dine at the Michelin-starred Restaurant L'Olivier in the wonderfully traditional hotel of Le Mas du Langoustier, sampling fine Provençal cuisine accompanied by a bottle of the local wine Domaine de l'Ile de Porquerolles.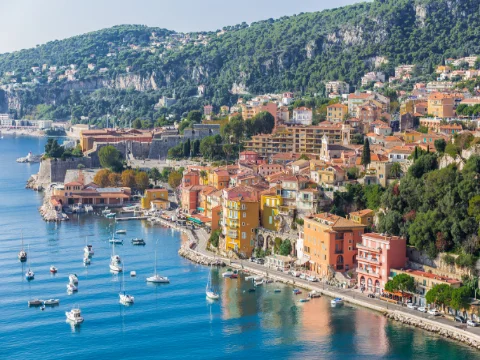 Villefranche-sur-Mer
 Get under way early for the cruise to Villefranche-sur-Mer, and lunch on board with a picturesque sight of the buildings of this ancient village. Famous for the works of Jean Cocteau, visit La Chapelle St-Pierre, and take a stroll down the medieval streets, stairways and squares of this 14th century town, guarded by the Fort Saint-Elme. Then head back down to the quayside to dine on la bouillabaisse at La Mère Germaine.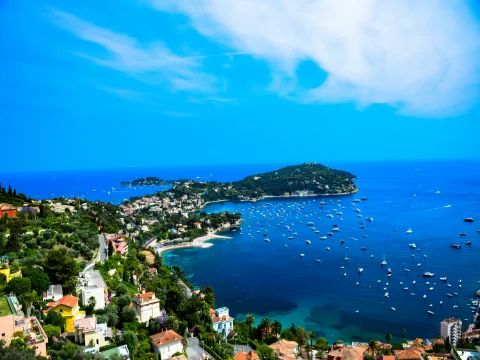 St-Jean-Cap-Ferrat
St-Jean-Cap-Ferrat offers pretty anchorages on either side of this peninsula, filled with spectacular villas adorning the coast. Take the tender in to Paloma or Plage de Passable beach clubs that your charter advisors will have booked for you and enjoy a long, relaxing lunch and lazy afternoon topped by dinner at Grand Hotel du Cap Ferrat's Le Cap restaurant.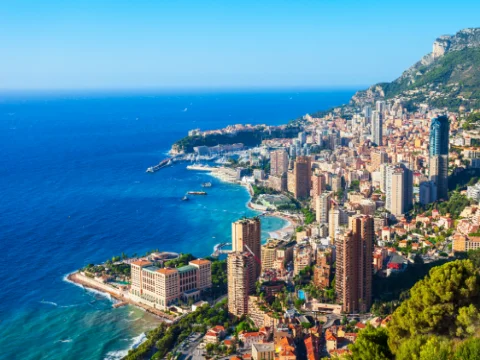 Monaco
End on a high note in Monaco: breakfast on board as you head back to Monaco. If your Charter coincides with the Monaco Grand Prix when the buzz, noise and excitement reach fever pitch, be ready to party like there is no tomorrow. If hard core partying is not your thing, we recommend you end your South of France yacht charter with an evening cocktail at Hotel de Paris's American Bar followed by an exquisite dinner at Le Louis XV-Alain Ducasse.