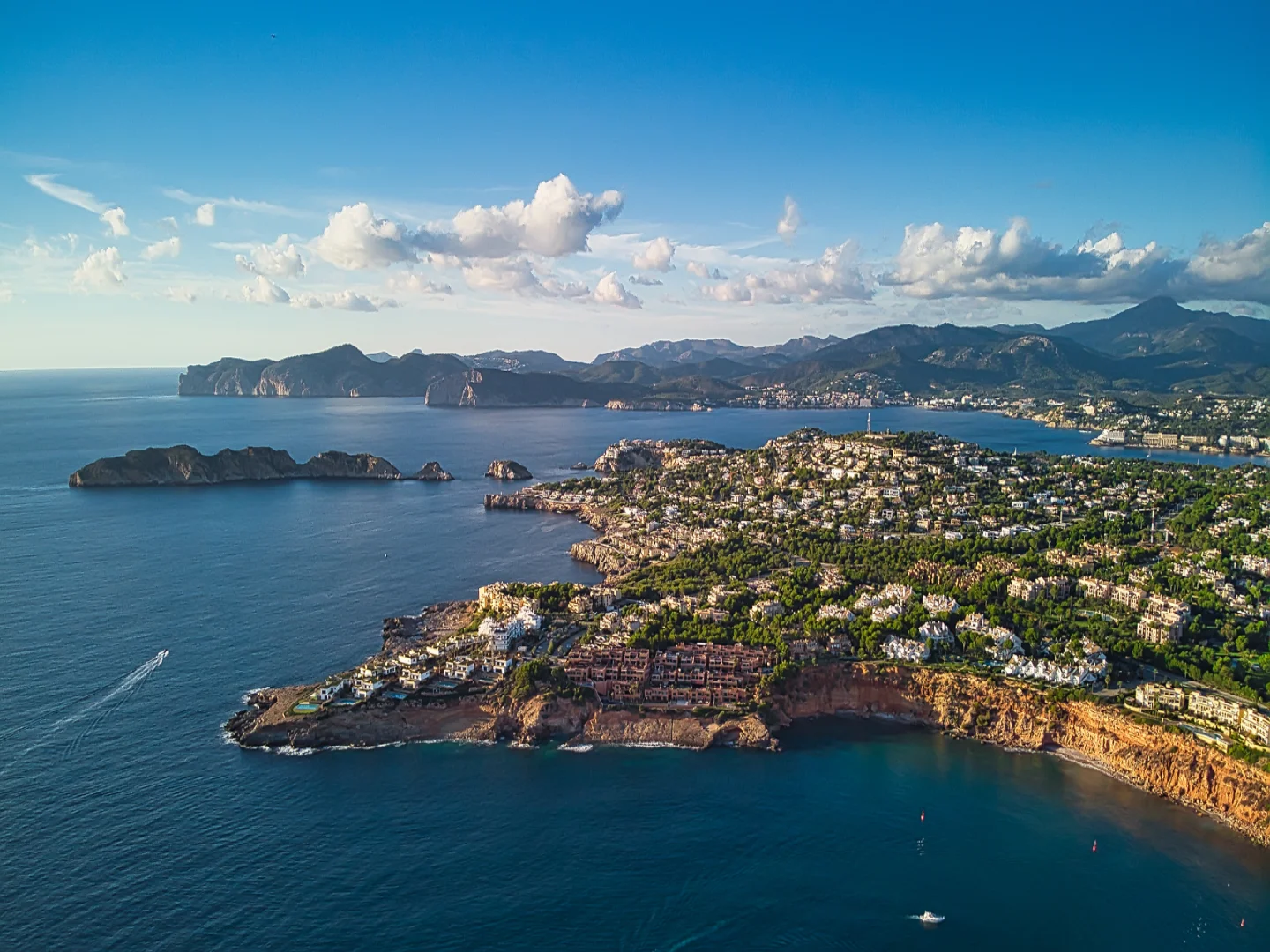 Mallorca and Menorca are the easternmost islands of the Balearic Islands and are becoming two of the most popular yacht charter destinations in the world. Discover these Spanish islands in all their glory with this 10-day yacht charter itinerary.
Start your Balearic cruise in Palma.
---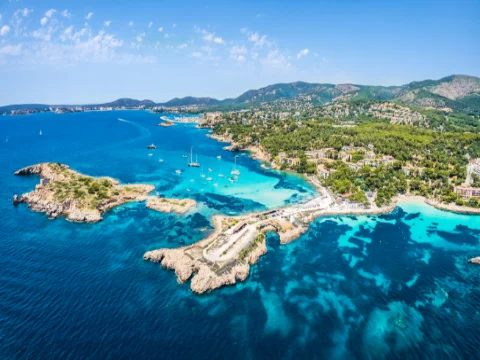 Palma, famous for its old town and bustling ports, is home to many charter yachts. This Balearic cruise starts in Palma, with a 10 am departure. At the same time, you familiarise yourself with your crew, and cruise to the picturesque fishing village of Andratx. On the way, you will visit the Cala de Portals Vells, while sailing into the bay of Palma, where you can enjoy lunch on board. After lunch, head for Andratx to arrive in time for a fresh seafood dinner in one of the many restaurants in the natural harbor.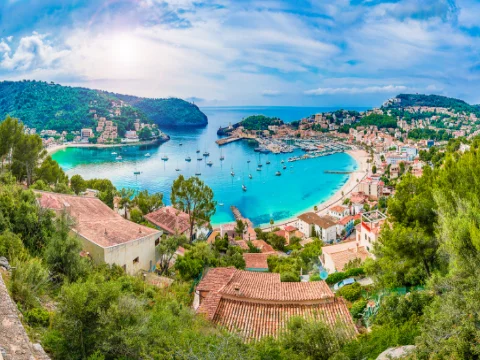 Wake up early on day 2 of your Majorca yacht charter and enjoy a fresh breakfast of pastries and fresh fruit on the aft deck, while leaving the port of Andratx behind. The first stop is the impressive island of Sa Dragonera. This uninhabited nature park sets the theme for the day - breathtaking natural beauty. The coastline en route to Sóller is rich in beautiful bays and islets. Choose from Cala de Estellencs, Cala Banyalbufar, Port de Valldemossa, Sa Foradada, and Cala de Deyà, where you can anchor at lunchtime and swim, if available book a table a the popular Cas Patro March for Lunch. Then head towards the peaceful Port de Sóller, where you can spend the night in the harbor or at anchor in the protected bay, an evening stroll is a must.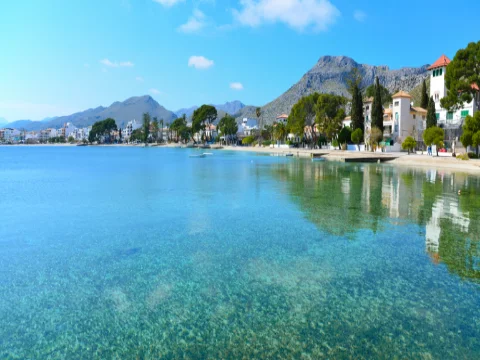 On the third day of your charter, you will discover the raw beauty of Mallorca's northern coast. Travel along the Serra de Tramuntana mountain range, which stretches from Sóller to Cape Formentor. Mythical coves dominated by towering peaks and spotted forests beckon. Sa Calobra or Elephant rock, as some know it, is a place worth seeing and the perfect spot for a refreshing swim. Continue east to the atmospheric beach bars of Cala Sant Vincenç. Set course for Cap Formentor before dropping anchor for the night in Pollença Bay. The bay offers plenty of protection for a quiet night at anchor.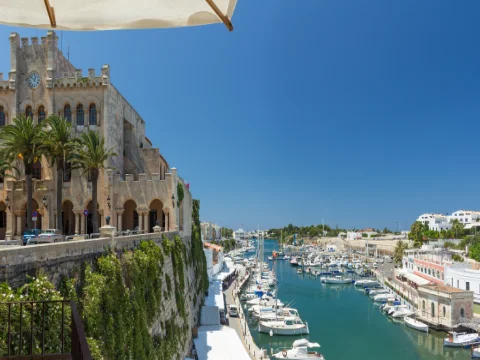 Wake up aboard your charter yacht in the beautiful bay of Pollença. The idyllic Mallorcan town of Pollença is only a short tender ride away. Spend an hour or two strolling through its unspoiled streets. Enjoy a fresh breakfast in one of the pretty cafés that line the steep streets and sunny squares. Pollença is a great destination for souvenir shopping, so pick up some bespoke gifts for friends and family who have missed out on an unforgettable Balearic yacht charter! Once back on your yacht, you can make the most of the toys in your garage. The waters around Cape Formentor are legendary for diving and snorkeling. Dry off in the sun and enjoy a late lunch prepared by your crew before setting sail for new lands. Menorca is in sight.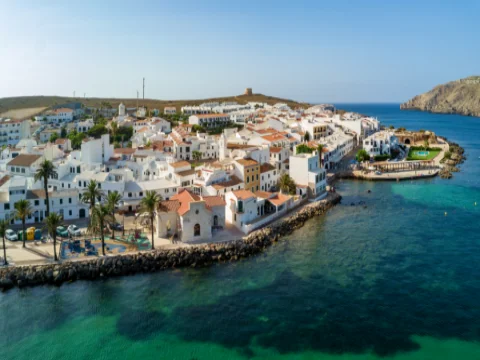 Ciutadella de Menorca is Menorca's westernmost town. Ciutadella is a place of culture characterized by sandstone buildings and graceful shops and cafes, and a quiet place for a morning walk. Don't get lost in the cobbled streets, though, as it will soon be time to set sail along the northern coast of the 'jewel of the Balearics'. Cala Algaiarens is a fine example of Balearic beauty. With two magnificent golden sandy beaches set in an idyllic bay. Cala del Pilar, further east, offers more tranquillity away from the tourists. This part of the coast is largely unspoiled. Enjoy lunch on board, prepared by your crew.

Enjoy it on the aft deck or flybridge, surrounded by unspoiled scenery. Choosing the perfect spot for an afternoon swim or snorkel can be a challenge for indecisive guests, as there are so many enticing bays and islets to choose from. After a day spent admiring the beauty of Menorca from the Mediterranean, you can disembark and enjoy the relaxed culture of this Spanish treasure. Disembark in the port of Fornells and be mesmerized by the white buildings and palm trees that make the town so remarkable. Famous for its friendly locals and fresh fish, Fornells is the perfect place to experience Menorca's culture in all its infectious beauty.
Choosing the perfect spot for an afternoon swim or snorkel can be a challenge for indecisive guests, as there are so many enticing coves and islets to choose from.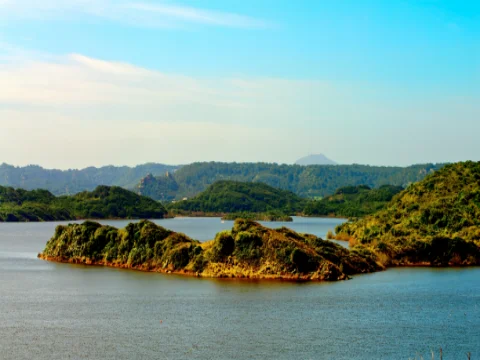 The sixth day of this Balearic yacht charter itinerary is an opportunity to discover one of Menorca's most beautiful areas. Head south-east from Fornells to the capital of Menorca, Mahon. On the coast off Mahon is the Parque Natural de S'Albufera des Grau, one of the island's true natural wonders. This man-made paradise offers dramatic cliffs, unique habitats, and a string of five enchanting islets. It is well worth a day's exploration and enjoyment of this natural wonder before continuing to Mahon.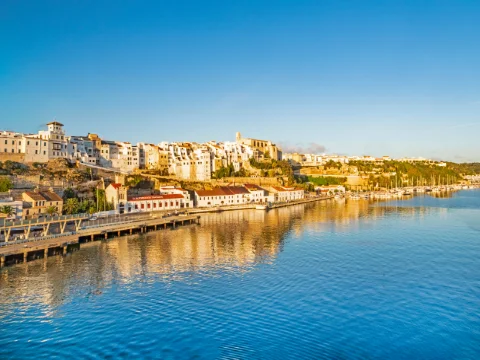 Mahon is the capital of Menorca and has one of the largest natural harbors in the world. Spend two nights in this bustling port town enjoying the Menorcan lifestyle and offerings before returning to Mallorca. Spend a relaxing day strolling through the charming town, shopping, or drinking gin. There are plenty of chic cafes and tapas bars. End the day with a cocktail or two in one of the harbor bars before returning to your yacht.
---