Sardinia's raw beauty and a multitude of luxurious ports of call make this island a certified superyacht hub. If you want to explore this magical Italian island on a yacht charter, we'll help you make the most of your experience with this perfect 7-day itinerary.
---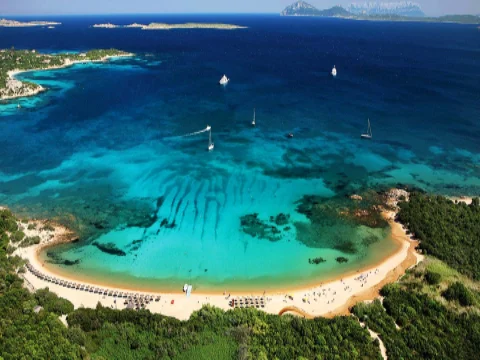 Board your yacht charter in Sardinia, on the Emerald Coast, in the beautiful town of Porto Rotondo. This elegant seaside resort is a popular stop for transiting superyachts throughout the summer, but its atmosphere is more peaceful than that of its neighbor Porto Cervo. Whether you start your trip with a relaxing swim on one of its many beaches or head to neighboring Aranci Bay and Figarolo Island, it's the perfect way to enjoy a luxurious setting in complete privacy.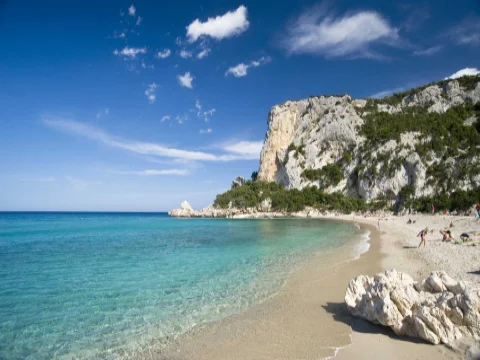 If you continue along the coast towards the south, you will discover numerous coves and beaches where you can drop anchor. Today, you can choose between a multitude of beautiful beaches, Cala Mariolu, Cala Goloritzé, Cala Luna, Cala Fuili, and Cala Cartoe. Cala Di Luna is located in the heart of the east coast of Sardinia, hidden in the Gulf of Orosei, and is distinguished by its deep caves carved into the limestone rocks that protect it from the winds. We recommend that you make this place your main anchorage. The beach is accessible only by sea or by a 4 km hike, which keeps it quiet despite its beauty and soft, golden sand. Enjoy an open-air lunch on board and soak up the spectacular surroundings before spending the afternoon snorkeling in the crystal clear waters.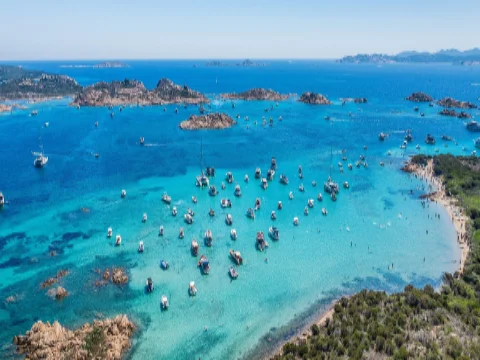 Your third day in Sardinia is dedicated to the island's capital, Cagliari, where you can spend a day strolling through the city's colorful and historic neighborhoods. We recommend starting your day with a coffee in the lively and bright Piazza Yenne in the Stampede district, and then following the winding streets of Catello to see the famous Bastione di Saint Remy. Afterward, head to the quiet Villanova district for some shopping. Don't forget to reserve a table at Niu Restaurant for a decadent and elegant feast. End the afternoon by returning to the marina and strolling along the promenade overlooking the Mediterranean Sea.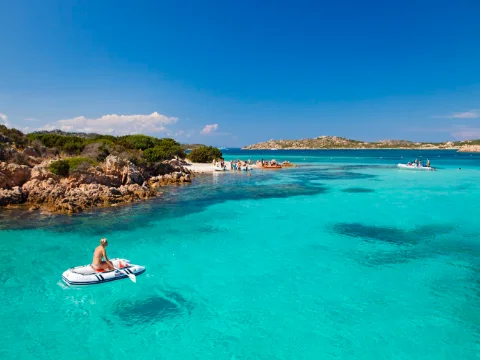 Along the southwest coast, you can discover Sardinia's natural beauty, historical relics, and magnificent beaches. Along the coast, you can discover the wild scenery of the Costa Verde and the coves of Iglesiente surrounded by cliffs. Inland, the museums of Iglesias and the Unesco-listed nuraghe Su Nuraxi in Marmilla can be visited if you want to learn more about the island's ancient past. The islands off the coast, Isola di San Pietro and Isola di Sant'Antioco offer a more isolated aspect of Sardinia and are worth a visit for their unique tropical environment. With its numerous anchorages for your motor yacht, this part of Sardinia will certainly be a success for you and your guests.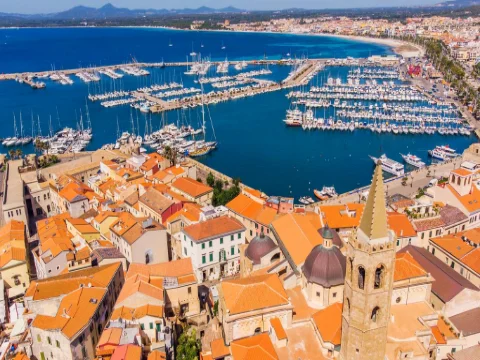 As you head northwest, the pretty medieval town of Alghero awaits. Once ruled by the Spanish, Alghero retains a strong Catalan feel to this day, from its architecture to the excellent cuisine for which it is known. Alghero is also close to the beautiful Riviera del Corallo, known for hosting the cave system of the rocky outcrop Capo Caccia - Grotta di Nettuno, which is a must-visit during your stay in Sardinia. For dinner, you can choose between numerous bars and restaurants on the coast. However, if you are looking for something more sensational and indulgent, we suggest you book a table at Al Tuguri.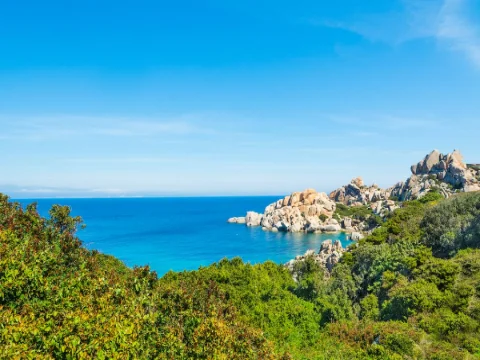 Cruise to Capo Testa, known for its breathtaking views and as a hiking area. Some days, when the weather is clear, you can see Corsica in the distance from here. Surrounded by clear transparent waters, this beautiful Italian paradise will surprise all members of the group. It is a wonderful place for hiking, and fortunately, the absolute perfection of the most spectacular landscapes of Sardinia remains throughout the spring and even in winter. Although there are few remains from Roman times, the jagged rock formations and the coastline offer a mystical sight that has put Capo Testa firmly on the list of places to visit. Capo Testa is surrounded by enchanting coves and dense Mediterranean vegetation at low altitudes. With its enchanting seascape, rugged hiking trails, and endless natural beauty, Capo Testa is one of the highlights of a trip to Sardinia that will inspire you to explore this amazing island even further.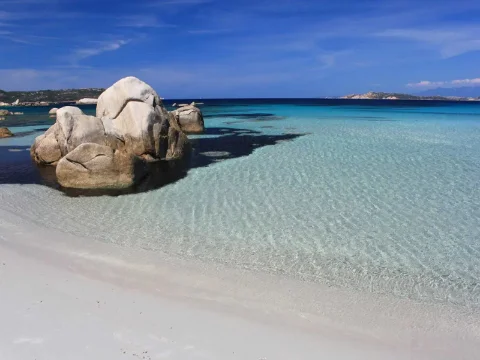 The last stop of your luxury yacht vacation is the beautiful island of La Maddalena. Accessible only by boat, it is the main island of an archipelago composed of seven large islands (La Maddalena, Caprera, Budelli, Santo Stefano, Santa Maria, Spargi, Razzoli) and 55 small islets. Here you can enjoy the unspoiled nature, jump from one island to another and meet the friendly locals, the perfect way to end your trip. In the evening, you will return to Porto Rotondo where you will disembark and finish your charter vacation. The memories you've made on this trip will stay with you forever and may even inspire you to plan your next charter adventure.  
---